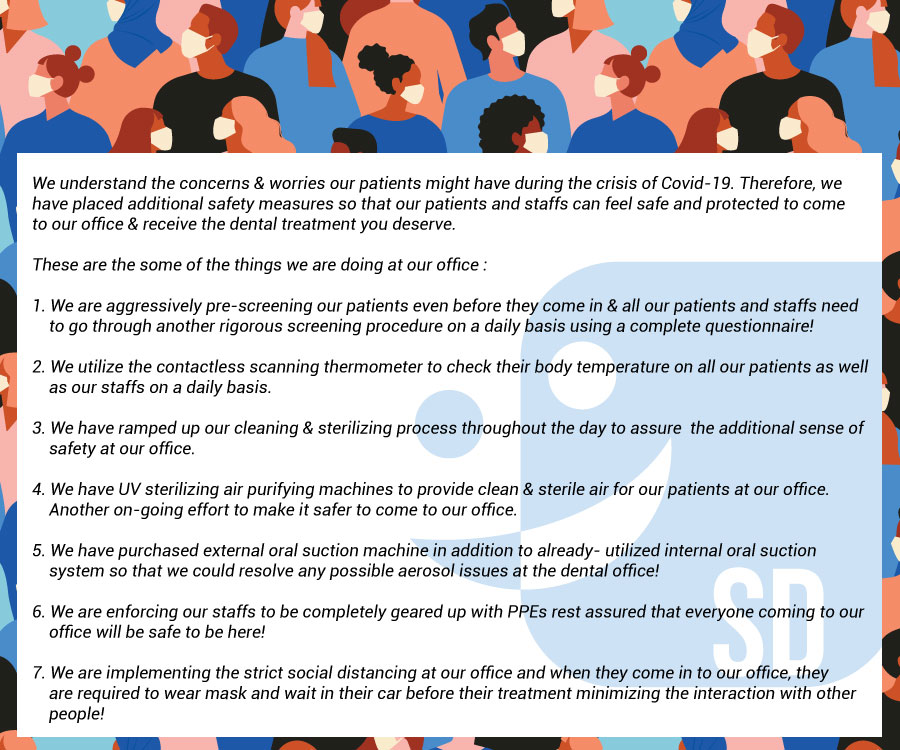 We understand the concerns & worries our patients might have during the crisis of Covid-19. Therefore, we have placed additional safety measures so that our patients and staffs can feel safe and protected to come to our office & receive the dental treatment you deserve.

These are the some of the things we are doing at our office :

1. We are aggressively pre-screening our patients even before they come in & all our patients and staffs need to go through another rigorous screening procedure on a daily basis using a complete questionnaire!

2. We utilize the contactless scanning thermometer to check their body temperature on all our patients as well as our staffs on a daily basis.

3. We have ramped up our cleaning & sterilizing process throughout the day to assure the additional sense of safety at our office.

4. We have UV sterilizing air purifying machines to provide clean & sterile air for our patients at our office. Another on-going effort to make it safer to come to our office.

5. We have purchased external oral suction machine in addition to already- utilized internal oral suction system so that we could resolve any possible aerosol issues at the dental office!

6. We are enforcing our staffs to be completely geared up with PPEs rest assured that everyone coming to our office will be safe to be here!

7. We are implementing the strict social distancing at our office and when they come in to our office , they are required to wear mask and wait in their car before their treatment minimizing the interaction with other people!